Visa
Every person entering France should have a valid passport and/or identification card.
You may need a Visa depending of your country of origin. Please contact the nearest French Embassy or Consulate to your home for further information.
For authors of accepted papers and PC members, the Congress Office can issue, upon request, an official letter of invitation. Please contact the organisers to get an invitation letter (precise which paper or PC).
Other participants can use their inscription receipt to ask for their visa.
Here is a list of countries that DO NOT need a visa (in French).
Wifi connection
Both Inria and Nice University are eduroam participants, so, if your institution provides you with an eduroam account, you are encouraged to initialize it on your laptop properly (help - aide pour les français).
We will provide personal wifi account to participants, but eduroam will work within a largest area in the campus.
Travel
By plane
Nearest international airport is Nice-Côte d'Azur (20km)

A taxi to Sophia Antipolis costs around 55 euros (see below)

Buses from the airport (see map to bus stop below)
To Antibes: Line 200
To Sophia Antipolis:

Connexion to Sophia Antipolis in week-ends is possible at certain hours through Antibes by bus 200 then bus 1
(check schedules for Samedi (Saturday) or Dimanche (Sunday))

When you enter bus 200, ask the driver for a Ticket Azur (ticket allowing connexion = correspondance).
Try yo have small change (1€50 if possible) as drivers may refuse bills
get out from bus 200 at stop "Piscine" (ask the driver)
walk to stop "Stade Nautique" of bus 1 (see schedule below)
see map of bus stops in Antibes and be careful to take bus 1 in the right direction: Vers Sophia Antipolis
(both terms Piscine and Stade Nautique roughly mean the same: swimming pool).


Airport: Buses stop at 3 mn walk from Terminal 1, see picture:

Car rental
Nice Cote d'Azur Airport offers a choice of several car rental companies.
By car
GPS 43.61619N (43°36'58") 7.06786E (07°04'04")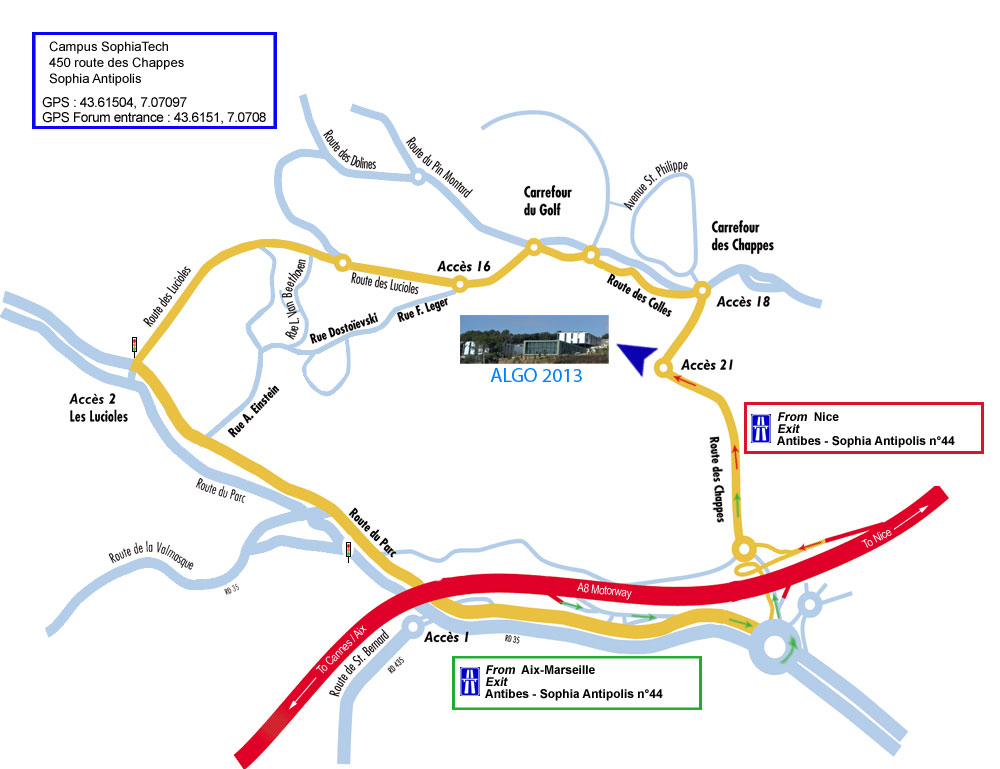 From Marseille-Aix by the A8 motorway, take the exit Antibes-Grasse-Sophia Antipolis, direction Sophia Antipolis.
From Nice by the A8 motorway, take the exit Antibes-Sophia Antipolis, direction Sophia Antipolis (the road on the right just after the toll).
By taxi
About 20 minutes from the airport (not during rushing hours ;-)
Typical fares: 55€ (more late at night or early morning)
Transfert Service (English spoken) +33 (0) 6 09 50 92 53
Taxi Sophia +33 (0) 6 27 51 01 51
Centrale Orange Taxi +33 (0) 820 906 960
Motorbike transport: +33 (0) 6 58 79 81 31
see also: http://www.cote-azur.com.fr
By train
The closest railway station is located in Antibes.
Regular shuttles from Antibes to Sophia Antipolis (see below).
By bus
Be careful that September 2 is the first day of scholar time schedule PÉRIODE SCOLAIRE (do not use the vacances time schedules).
For all the lines mentioned below, the bus stop closest to the venue is Templiers. You can locate it on the campus map.
From Nice city or Nice-Côte d'Azur Airport
Fare: 1€50
Line 230, which does NOT work on saturday/sunday (see above)


From Antibes
Fare: 1€
Try to have small change (1€ coins if possible) to avoid a long line when entering the bus, as the fare must be paid to the driver (unless you manage to buy tickets at one of the few selling points in advance). Some drivers refuse bills.

You can use lines 1, 11, or 100 to reach the conference.
Map of bus stops in Antibes (center and train station)


There are important construction works around the railway station. Look at the map above and locate bus stops in the right direction: Vers Sophia Antipolis.
The map shows other stops that may be closer to your hotel, and more convenient to reach.


Bus schedules valid from September 2:



(morning) From Antibes "Place de Gaulle"

Monday Sept. 2nd : 8:00 am
From Tuesday to Friday: 8:20 am

However, there can be crowds in the morning on these first days of the new school year, so, it may be wise to also consider buses starting from Antibes "Place de Gaulle" at 7:45 am and 8:10 am.
(evening) From "Templiers"

Monday, Wednesday, and Thursday : 18:35
In case you arrive before Sept 2, here are bus schedules valid until September 1st: Line 1 - Line 11 - Line 100 Other lines in the area: Envibus Lines


The above mentioned buses also allow you to move within Sophia Antipolis.
There are other lines as well, see Envibus Lines.
If you are staying at the Lycée International de Valbonne (CIV), you need to go to the Gare Routière Valbonne Sophia Antipolis (5 min walk), indicated as ``GR. VSA'' on timetables.
map of buses in Sophia Antipolis

Walking or biking
If your hotel is in Sophia Antipolis you can probably walk to the conference site
map of bike and pedestrian tracks

Nice to know

Official tourism portal for the Riviera Côte d'Azur

Climate
The French Riviera benefits from a Mediterranean-type climate, characterised by exceptional sunshine almost 300 days a year and mild temperatures for most of the year. It rains heavily but infrequently mostly in March/April and October/November. In winter, freezing temperatures are rare, but sweaters are advised.

Opening hours
Shops are usually open from 9 am to 7 pm from Monday to Saturday. Department stores may stay open until 9 pm.
Banks are open from 8.30 to 12 noon and 2 to 4.30 pm, Monday to Friday, with some branches opening on Saturday mornings.

Money/currency
Credit cards are accepted in many shops, hotels and restaurants (there is usually a minimum amount of between €7 and €15).
For cash, you will find cash-points on just about every street corner (24 hours a day). It is always useful to have cash on you at all times for expenses like taxi, drinks, etc.
Bank branches, exchange bureaux and some post offices handle currency exchange transactions and traveller's cheques.
Whatever you are buying, prices are net. A gratuity is however the custom in for certain specific services (taxi cabs).
A service charge is included in the price of each item on the menu in any cafe or restaurant as required by French law. In theory, no further tipping is expected. However, it is pretty common to leave something after a bite to eat or drink. But it's never expected and is only given for good or attentive service, or at a place you habituate frequently. Extra generosity will never hurt.


Emergency phone numbers
Dial the following numbers (toll-free)
SAMU (medical emergencies): 15
Police emergency: 17
Fire-brigade: 18
European emergency call: 112

Calling
To call France in France: 0 + number
To call France from abroad: 00 + 33 + number
To call abroad: 00 + country exchange number + number

Electric standards
220 Volts / 50 Hertz

A few tips for a pleasant trouble-free holiday
- You are strongly recommended to respect smoking/no smoking signs in public places.
- If you are driving, park only where authorised and respect speed limits on highways and motorways.